Chefs Atelier is a manufacturer of premium handmade tart shells, high-quality frozen pastries, cakes and macarons offering retail & wholesale options in over 10 countries worldwide.
Our Ateliers are located in Istanbul Turkey and Shenzhen China.
We built our reputation by providing best quality of products, consistency and delivery within international market.
We do constantly extend our product range considering the new trends and the demands of culinary proffesionals.
We are currently market leader both in Horeca and Retail segments in Turkey, cooperating with many of the nations top warehouses, coffee shops and retail grocery stores.
All of our products are handcrafted and avalible in retail ready packaging. Private labeling options are available.
The portion, size and shapes of the cakes can be adjusted as per the customer needs.
The values we offer;
Handmade approach
Healthy and natural production
Nutritionally balanced
Free of preservatives
No artifical colorings
Tart shells are suitable for cold or hot usage
Humidity resistance, modified atmosphere packaging
Packaging supports avoiding any deformation
Please contact us for any questions or inquiries.
Tarkan Özdemir
Founder Chef
A passion for food and a long-standing family tradition influenced Chef Tarkan Özdemir to pursue a career as a professional chef. Interested in all aspects of the culinary arts, he has seen his cuisine develop throughout the years. Travelling around the world learning about different cultures and their cuisines developed his own keen sense of flavor and style. Tarkan is one of those rare chefs experienced in working all positions and areas in kitchen includes 1 Michelin star restaurant, along his cooking skills he has considerably strong bakery knowledge and known with his award winning trendy pastries.
Tarkan has chosen the profession of cooking for passion but also for tradition. He was born and raised in Mengen (North-West Turkey) the small town known with its unique and delightful cuisine also caliber chefs since 14 th century. After 7 years of intensive culinary education he received his diploma in 1996 from Mengen Anatolian Culinary, Tourism and Hospitality Vocational High School.
In 2013, Tarkan started his company Chefs Atelier, established a HACCP/ISO/FSSC22000 certified state of the art central production unit in Istanbul, Turkey. Chefs Atelier now employs above 70 ambitious and highy skilled team members working around the clock to meet the demands from over 10 countries.
Prior to become an entrepreneur Tarkan worked as Director of Food & Beverage, successfully led the pre-post opening project of Le Meridien Istanbul Etiler. In China, he completed the pre-post opening phase of both InterContinental Hangzhou and Holiday Inn CBD Hangzhou as Complex Executive Chef. He has been very committed with InterContinental Hotels Group, he worked for some of the most flamboyant hotels within IHG chain such as; Crowne Plaza Beijing, InterContinental Shenzhen, Al Bustan Palace Muscat, InterContinental Malta, InterContinental Berlin and InterContinental Frankfurt as well as Crowne Plaza Istanbul.
Tarkan is a well respected chef in Turkey. He is board member of Bocuse d'Or Turkey Academy contributing continuous support to select and assist the Turkish winners for preparing Bocuse d'Or Europe finals. He is a member of Turkish National Culinary Team; he represented his country in some of the most prestigious culinary competitions and food festivals around the globe since 1996. His winning attributes has brought him international recognition throughout the years, he won 8 Gold, 6 Silver, 3 Bronze and 4 first in class awards. He was selected to Youth German National Culinary Team in 2002 and won 1 gold and 1 silver medal under German flag. He lately contributed as a judge committee member at some of these international cooking contests.
Tarkan has and will always continue to achieve Chefs Atelier's vision of continuous innovation and the highest standards with his natural creative flair, passion, style and his strong background in managing and expanding the operations.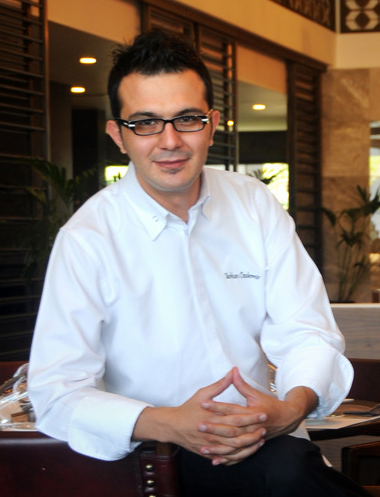 Chefs Atelier products are currently available in over 10 countries around the globe as the company has built long-term relationships with local partners who are specialized in the distribution of quality food supplies and ingredients to HORECA and food service professionals.
Please contact us if you are interested in distributing our premium products in your country and learn more about our products and services.
Following the guidance ouf our values we guarantee offering exceptional quality of products to our customers and end-users.
We proudly obtain several quality certifications to provide international standards and renew every year.
FSCC2200 Certification; guarantees our internal quality and management procedures additionally compliance to existing regulations.
Halal Certification; considering our Muslim customers and Halal consumers we assure that our products are Halal and our premises hygiene and sanitation procedures are in top-notch condition.
Internal Audits; we conduct internal audits every year and continuously improving our processes for operating effectively.
We are a transparent company, We open our premises for external audits, showing our manufacturing processes and tracking of raw materials as per the request of our customers.